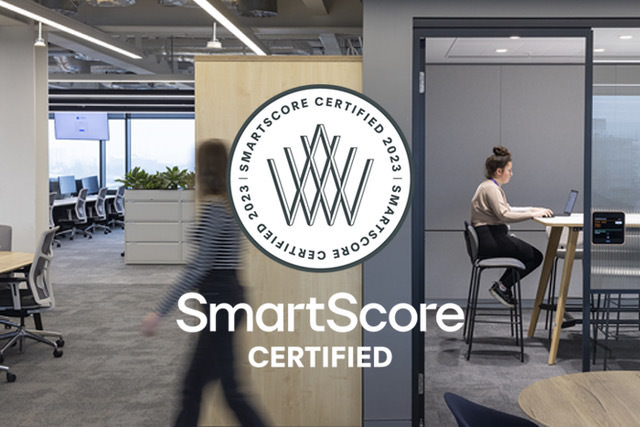 Building C Assembly is SmartScore Certified
Assembly's Building C has become only the second building in Bristol to achieve SmartScore certification, demonstrating cutting edge innovation with the use of market-leading technology, processes and automation to deliver world-class outcomes to all users of the building – creating a highly sustainable, inspirational, cost efficient and future-proof space.
Building C has achieved best-in-class Smart Building certification, making it only one of 10 certified-rated buildings globally and one of 16 live SmartScore certifications in the UK. SmartScore is the global certification for smart buildings, championing cutting edge technology in real estate. Providing a global standard, SmartScore identifies best in class smart buildings that deliver an exceptional user experience, drive cost efficiency, meet high standards of sustainability and are fully future-proof.
Achieving SmartScore certification demonstrates Building C's cutting-edge innovation and market-leading technology. SmartScore certification verifies that Building C has best-in-class smart building features to support exceptional user experience, cost efficiency, and sustainability best practices, including:
Using technology to optimise building systems, reducing energy and operating costs
A world-class smart building infrastructure giving tenants an outstanding user experience
Multiple high-speed internet providers available to tenants
In-building technology, such as the Assembly app, to help support and develop this new workplace community through better connectivity and networking.
Upon completion, Building C will offer the next generation of office space in the Bristol market. The visionary, state-of-the-art space will integrate the practical demands of modern businesses, with the desire to live and work sustainably all by placing technology at its core. Building C offers current availability of 93,000 sq ft, with spaces starting from 3,000 sq ft, and whole floors of 7,800 sq ft.